Vehicle Service Agreement (VSA) – Extended Warranty For Your Toyota
A vehicle service agreement (VSA) is an extended warranty contract that can cover the costs associated with certain repairs or replacements, including parts, labor, and/or sales tax, that may be required after a manufacturer's warranty has expired.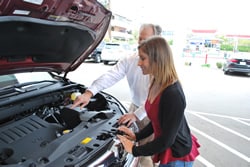 Hamer Toyota offers vehicle service agreements (VSAs) for New Toyotas, Used Toyotas and Certified Used Toyotas with mechanical breakdown coverage, travel protection benefits and low deductibles. Vehicle repairs can happen at any time and can become an unexpected expense. Get the peace of mind that comes from knowing your vehicle is covered. Ask one of our Hamer Toyota Finance specialist about which of our Vehicle Service Agreements is right for you.
What are the benefits of a Vehicle Service Agreement?
Coverage tailored to your needs (various plans to fit ownership time and mileage driven during ownership)
Ensures the quality of future repairs – repairs made by qualified technicians.
Factory warranty only covers defects in parts and faulty workmanship-
Although normal wear items (ie brakes & tires) are not covered, covered components are still covered if they break because of wear.
Covers towing, up to $80 per occurrence for mechanical failure
Rental Car coverage – $30/day for up to 5 days
No out of pocket other than the deductible if applicable
Repairs can be made when needed, not when you can afford them
Budgets repair costs overs time of ownership – parts and labor costs increase regularly
Increased resale value – Repairs can be made so a car in good mechanical shape is easier to sell.
Transferable to subsequent owner – a car today without warranty is virtually unsellable
Cancellable to get a pro-rated amount (so you get back what you don't use) if vehicle is traded or totaled
Limits out-of-pocket expenses to the deductible
Today's vehicles are so sophisticated, it is difficult to repair or even diagnose what the problem is (require special tools, equipment and training)
Protects savings – coverage of parts and labor on covered repairs protects from having to put repairs on credit card or take money from savings account
Protects investment – a vehicle purchase is a major investment for everyone