Gap Insurance – Guaranteed Auto Protection For Your Vehicle
Guaranteed Auto Protection or "GAP Insurance" is an optional insurance policy that will cover the difference or "GAP" between your vehicle's current market value and the balance remaining on your finance or lease contract, if the vehicle is deemed a "Total Loss" by your insurance company due to  theft, accident, fire, or flood.
Why do I need GAP Insurance? 
All new vehicles start to depreciate in value from the time of purchase. If your vehicle were to be stolen and not recovered or totaled in an accident during this time, your insurance will typically only pay you the actual cash value (ACV) for your vehicle. The loan amount on you vehicle could be significantly more leaving you to come up with the difference out of your pocket.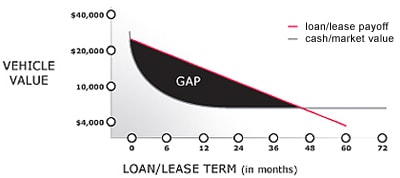 How Does GAP Insurance Works? 
Let's say you buy a new car for $30,000. You make a $2,000 down payment, take out a $28,000 loan, and set up monthly $400 payments.
Four months later, you owe $25,000 on the loan and your car gets totaled in an accident. Your insurer estimates the car's market value and only pays you $22,000 for your loss. That means you have a $3,000 difference or GAP between how much you owe on the loan and the amount you received from your insurance carrier. Plus you're still responsible for any deductible. Your GAP Insurance would cover that $3,000 difference for you and any deductible up to $1,000.
What are the benefits of GAP Insurance?
Pays the deductible up to $1,000
Pays a deficiency balance up to $50,000
Coverage for loan amounts up to 150% of MSRP (new)/NADA retail (used)
Eliminates the liability of excessive depreciation or negative equity in the event of a total loss.
Clears the loan balance allowing customers to start fresh with a new vehicle purchase
Cancel-able and refundable – like service contracts, customer can receive a prorated sum if they trade or sell the vehicle
Protects the customer's investment
Provides customers with peace of mind (In the event of a total loss, they won't have to worry about taking money from savings to pay balance–or if no savings, paying the payment on a car they can no longer drive)
Enables the customer to afford a replacement vehicle in the event the vehicle is totaled
Helps avoid potential credit problems if customer is unable to pay negative equity
Who Needs GAP Coverage?
GAP coverage is highly recommended on any auto loan for consumers who:
Make a down payment of less than 20 percent
Roll negative equity from a previous car loan into a new car loan
Finance for 72 months or more
Finance a vehicle that depreciates very quickly (luxury, highly optioned, many domestic vehicles)
Lease a vehicle
GAP insurance is an optional purchase; however, many states in the US require that a car dealership offer GAP insurance at the point of purchase. A one-time payment of a few hundred dollars for GAP insurance could save you thousands if your car is totaled or stolen in its first few years of ownership, or at any time during a lease.